Many applications require a continuous media supply independent from the syringe volume. For such cases we have created now a simple and effective solution of a compact valve unit as an ideal supplement to our neMESYS low and medium pressure modules. In combination with a novelty in the configuration dialog of the continuous flow mode in our QmixElements software, the pressure controlled switching, the continuous dosing can be realized easily and quickly. For this purpose, two syringe pumps equipped with this novel valve unit are optimally synchronized in the switching behaviour, whereby a smooth transition is achieved.
Product details
The compact combination of two separate 2/2-way valves and a pressure sensor (up to max. 10 bar) enables you to set up a continuous pumping procedure quick and conveniently – whether for our low-pressure or mid pressure syringe pumps.
Low Pressure Syringe Pump neMESYS 290N with Contiflow Valve
Mid Pressure Syringe Pump neMESYS 1000N with Contiflow Valve
The sophisticated valve unit combines two 2/2-way valves and one pressure sensor per module in one compact component. The less space consuming and compact design and practical arrangement allows quick and comfortable access to the fluidic interface (1/4"-28 UNF inlet/outlet).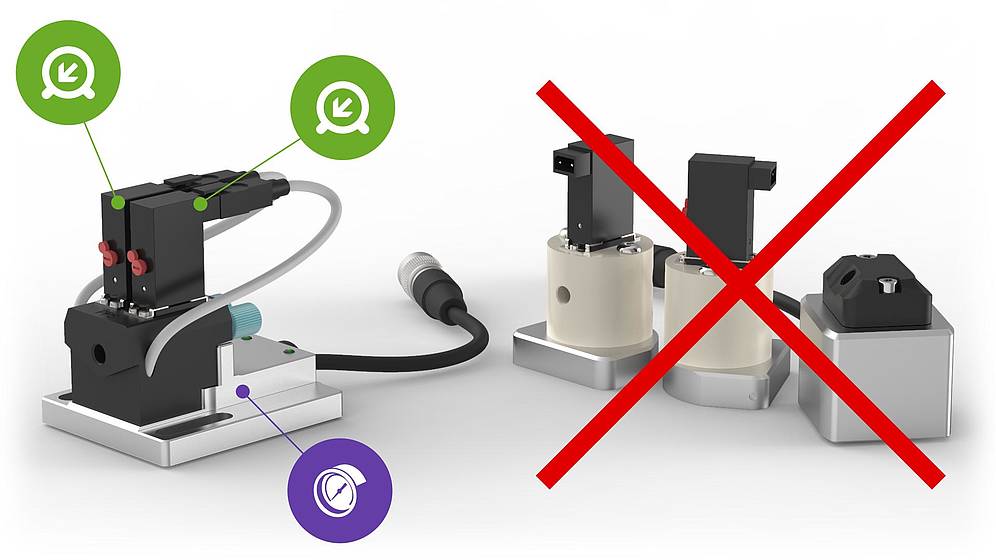 On the input side, the selected syringe is screwed directly into the valve unit and is thus safely fixed on the module. The fluidic interface for application and reservoir are on the opposite side and are labeled with RES and APP. Visual user support during operation is guaranteed by the LEDs under the respective fluid connection which indicates the current switching position. PPS, FKM and Al2O3 are installed in the valve unit as wetted parts.
Integrated screw-in syringe holder for easy fluid connection
Indication of the valve switching position (application / reservoir) by LEDs
Indication of the valve switching position (application / reservoir) by LEDs
Indication of the valve switching position (application / reservoir) by LEDs
For the continuous operation, connect the two RES connections to your reservoir (yellow in the picture) and the APP connections of both pumps to your application (blue in the picture), for example via a T-piece. The valve unit has three fluidic connections with ¼"-28 UNF female thread.

The following overview illustrates how three previously separate products, two valves and one pressure sensor, are now compactly and clearly combined in one product.

Specification
3/4-way valve (10 bar max.)
one integrated pressure sensor (20 bar)
wetted parts: PPS, FKM, AI2O3
for neMESYS Low and Mid Pressure Syringe Pumps
You can find detailed information and technical details about our new 3/4-way Contiflow Valve on our product page. We are happy to support you for the realisation of your individual set-up for continuous media supply.